The wheel of history turns and turns, but we the people don't seem to change too much, do we? It's as if only the stage set occasionally changes a bit around us. We've replaced the carts and wagons with cars, instead of shacks we live in shiny buildings of glass and metal, and our brains we've trapped inside plastic boxes and connected them digitally. And that's about it, as far as change goes. Everything else remains: wars, resources, politics, easily controllable masses, trade and consumption.
In the late 3rd century AD, Roman emperor Diocletian established a tetrarchy, and he appointed one Gaius Galerius to rule Egypt and Syria on his behalf. In 303, encouraged by Galerius, Diocletian burned his own imperial palace in Nicomedia, then accused the Christians for it and used the opportunity to demonize the Christian community based around Antioch. Terrible persecution ensued, torching, pogroms, beheadings, massacres of Christians (St. George and St. Panteleimon were among the more famous victims).
This propaganda tactic has been used for centuries. And for some unknown anthropogenic reason, it always works without fault. It worked for Hitler when he burned down the Reichstag and blamed the communists. It's obviously working today for the US too, their main tool for well crafted blame being the "use of WMDs" and the "killing of innocent small children" (think about the children, you heartless automatons!) This worked flawlessly for both their wars in Iraq. First they brought a 15 year old girl to the international human rights committee, and she told the jury, with tears in her eyes and a touching trembling voice, how she had witnessed the murder of babies in incubators by blood-thirsty Iraqi soldiers. Years later it turned out she was the daughter of the Kuwaiti ambassador to the US and the whole story had been forged, but what does it matter. The case for Iraq War 1.0 had already been made, it was a done deal at this point.
Next up, Iraq War 2.0 and the "chemical weapons" that Saddam presumably had in his possession. Those were probably meant to be the same WMDs the US had supplied him with for his prior fight with the Iranians. At the end of the day, no such weapons were found and everything turned to have been mere propaganda. Too bad for the hundreds of thousands of killed Iraqi, their ruined country, and the chaos in the region that persists to this day. What does it matter? The ends justify the means. After all, who would've dared to question the testimony of a sobbing little girl about bad evil soldiers slaughtering little babies?
Oh, and how are we supposed to question and criticize the good intentions of the global spreader of democracy and all that is good in the world? Yeah, the only country in history to use nuclear WMDs for the mass murder of entire cities. Now this paragon of peace again seems utterly "concerned" with the presence of chemical weapons in a war-torn region. And sure, they should have a good reason to be worried about chemical weapons: traces of them are still affecting the biospheres in Vietnam, right? So, America must know a thing or two about chemical weapons. Therefore we should trust their judgment when they have to say something on the matter.
As much as we might be tempted to accuse the US administration (not just this one, all previous administrations too) in a lack of imagination and creativity, at the end of the day, the tasteless propaganda they're so eager to employ over and over again, seems to be working just fine. Every single time. The accusations against Assad have been flowing in for more than 6 years now, maybe several times a month, every month. The first accusation was back in 2013, when chemical weapons were used in Khan Al-Assal, near Aleppo. But in that case something didn't click right into place with the whole story, and the "moderate rebels" were exposed as the likeliest culprit. Things went as far as former UN prosecutor Carla del Ponte saying herself that it was most likely that the rebels had used the chemicals. She was fired the very next day for this sudden, unsolicited burst of sincerity. We can't allow some narratives to be challenged now, can we?
Mind you, if you think this is some crazy-ass conspiracy theory, I'll have to disappoint you. This is actually closer to fact than the stories the media had been spreading, at least initially (when it most mattered). The Syrian government invited international inspectors to investigate the case openly, but for "administrative reasons" they somehow came a few months late, on August 20, 2013. On August 21 (the next day), as the international delegation were already in their Damascus hotel, the next accusation came in: in Eastern Ghouta, a region in the Damascus suburbs, another chemical attack. The delegation instantly packed up and left Syria without even setting foot in Khan Al-Assal. And Obama started declaring left and right that Assad had crossed the imaginary "red line" the US had set for him.
Thus, we get to this month's new accusation, the one from April 4. The whole thing looks like a belated April Fools prank when you look a bit closer at it. From Khan Sheikhoun, a town under the firm control of Al Nusra, Al Qaeda's branch in Syria, a string of footage came of gassed dead children. Just a day earlier, Al Qaeda had kidnapped scores of people from nearby Khattab, their whereabouts still remaining a mystery now. Local news outlets report that these were the same people who were shown in the footage of the chemical attack. The Syrian and Russian military claims a weapons storage was hit, stuffed with ammo from Turkey. As we've mentioned here, any motivation of the Syrian military to use chemical weapons at a time they've almost won the battle in North Hama, remains a mystery too. It sounds illogical and absurd, stupid even. We should be asking ourselves, who actually wins from the whole story? Assad, who had his foes stuck into a corner and would've suffocated their resistance if he had kept the course for another few weeks without any sharp moves – or his desperate opponents who were near done and finished, unless something new and drastic happened (like a chemical attack, and the direct involvement of the world's greatest military power)? Are there any critically-thinking people still around?
But let's face it. None of this really matters. It's quite telling that Israeli prime-minister Netanyahu seems so utterly concerned for the well-being of the Syrian people, and Turkish president Erdogan (this paragon of humility and humanity), and also Boris Johnson, Francois Hollande and a dozen other friendly US minions who've piled onto the bandwagon, and crawled into the media and social networks, as if prompted by command, to raise a chorus of condemnations to the evil Syrian government.
No direct and undeniable proof, no UN resolutions this time, no verifiable information. We don't need them to start bombing someone at this point. So the US did just that. In a display of decisiveness, strong will and sympathy for the dead little children and their sobbing surviving siblings, Trump ordered the bombing of a Syrian air base near Homs. The stated reason was the "chemical attack" that Assad had somehow done in an Al Qaeda controlled town, based on footage sent by the omnipresent White Helmets – the ones who probably deserve more Oscars than Meryl Streep for their artistic renderings of events (not that anti-Syrian propaganda wasn't present at the Oscars). As some of us may be aware, the so called White Helmets are exclusively active in regions controlled by Ahrar Al Sham and Al Nusra. The reason for this I leave to your imagination to deduce.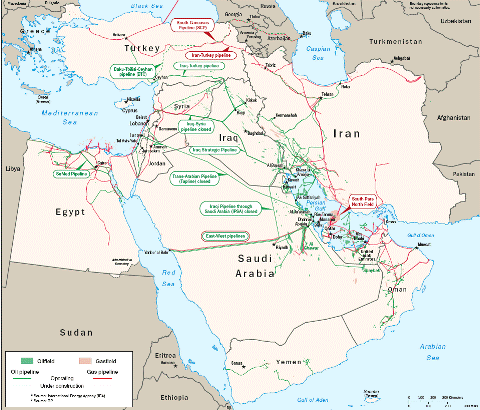 Whether the world is standing at the precipice of WW3 or this is all just some re-shuffling of the chess pieces, the more important question is, why is all this needed? Who gains from it? Well, we've already talked about this part here already. As funny and simplistic as it may sound to some, it's mostly about gas. Gas pipes, to be more precise. If you look at the map of Syria, you'd realize America's main problem and that of their good buddies Saudi Arabia, Qatar, Turkey and Jordan, is the advance of the Syrian military towards Palmyra and Deir Ez-Zor. If Assad takes these territories, he'd shut the gates to the Gulf pipes from Qatar to Turkey, and render the splitting up of Syria meaningless. Splitting Syria up has been America's plan B since they realized nearly 3/4 of the Syrian population actually supports a secular government rather than the US-preferred Muslim Brotherhood and its Islamized metastases.
Of course, we shouldn't forget the newly-found fossil fuel deposits in the Levantine basin if we want the whole picture. Everyone knows the US and their minions want to put a friendly puppet in Damascus, and they're using radical Islam as a tool for pressuring the current regime there. If they genuinely wanted democracy, they would've focused on the most obvious elephant in the room first, Saudi Arabia. After all, any dissident thought, especially in terms of religion, is punished by jail and even death there, and women have close to zero rights. It seems to me Saudi Arabia (and Kuwait, and Qatar, etc) are in urgent need of freedom and democracy, no? Or maybe having mindless, easily controllable consumers is more convenient to both sides of this awkward West/East symbiosis?
And to those ultra-nationalist neocon hawks on both sides of the aisle praising Trump's sudden "presidential aura" and his unilateral actions in Syria, I'd just as this one question. You folks are very fond of Jesus, right? So why doesn't anyone try to find a surviving Christian town or neighborhood in the "rebel"-controlled parts of Syria that still has population and is not completely destroyed? Come on, find me one!
Why does your Jesus-loving government support (and in some occasions, indirectly sponsor) genocide against Christians? Why am I not hearing anything on the Trump-praising, airstrike-contemplating, "beautiful"-poetry-reciting media about the systematic exterminations of the Christian population in towns like Maharde by "moderate" monsters like Jaish al Izzah? Who funds those monsters? Correct me if I'm wrong, but wasn't the US supplying them with equipment and money? How did they end up in possession of brand new US weapons? In fact, when you're attacking the Syrian government, who are you really attacking? Syrians, Christians, Alawites and Sunnis. In other words, to use the nationalist rhetoric you're so accustomed to, "Real Syrians".
Also, could you point me to a single square inch of rebel-controlled territory where a Wahhabi and Salafi Sharia quasi-caliphate hasn't been imposed? Would you be so kind to explain to me how come Daesh has attacked the Syrian bases instantaneously after the US and Israeli strikes in Der Ez-Zor, Homs and Palmyra? Whom were those strikes meant to help really? Would you tell me how come Idlib is simultaneously the capital of Al Nusra controlled territory and of the Free Syrian Army territory? And why is Idlib full of signs banning women from walking outdoors without a niqab? Are these the people you want to replace Assad with?
Would someone tell me why we're constantly seeing US weapons and TOW missiles in the hands of Al Nusra? And why isn't anyone admitting that Ahrar al Sham is a terrorist organization, its founder is a former Al Qaeda member, and the current Al Nusra chief (or Tahrir al Sham chief if you like), the so called Abu Jaber is a former chief in Ahrar al Sham? Would you tell me why the cousin of the founder of the FSA is actively spreading radical Islam around the Balkans?
See, I can recall of a certain former great power that in a similar fashion liked surrounding itself with servile, docile, unscrupulous propagandists and manipulators. Well, that system came crumbling down and has been thrown to the scrapheap of history, being totalitarian and unsustainable. It's a failed system. And it would be nice to consider raising your level a bit, and starting to give way to critically thinking, autonomous people who are prone to looking for actual facts rather than ones slavishly licking your… boots. Because those who surround themselves with sticky trash, sooner or later start reeking themselves.